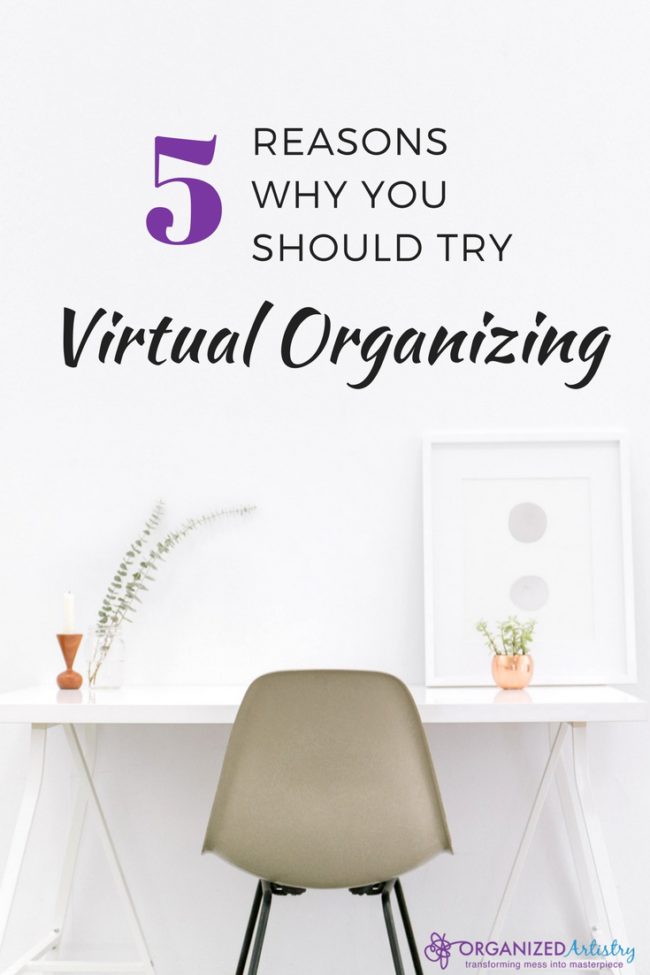 If you watch HGTV or read Real Simple magazine, you've probably heard of' 'Professional Organizing.' It is the art of helping people create and maintain systems and processes using basic principles of organization.
But have you heard of 'Virtual Organizing?'
Virtual Organizing is the art of helping people create and maintain systems and processes using basic principles of organization–virtually. When I say 'virtually,' I mean helping people get organized via the phone, Skype, FaceTime, email–as opposed to working with them in person.
Virtual organizing has evolved over the past few years. Although there are thousands of Professional Organizers in the United States, not every Organizer lives in a densely populated area that might provide them with an adequate amount of clients. Not everyone wanting to hire a Professional Organizer has one in driving distance of their home. Thus, a new way of organizing was born. If people could use technology to communicate with friends, relatives, and business associates, why not use it for helping people get and stay organized?
Why I started offering Virtual Organizing services…
I have been doing Residential Organizing since I formed Organized Artistry in 2002. I love rolling up my sleeves and working side by side with a client to help them reach their organizing goals. I work with clients within a 30-minute radius of my home and wished to somehow widen that radius without having to travel far. With school-aged children, I wanted the option of working close-to-home. At the 2016 NAPO Conference, I heard a veteran Professional Organizer speak about how she added Virtual Organizing to her business model so she could work with people around the country who were in need of her specialized skills. She developed a tele-class in Virtual Organizing and offered it to colleagues so they could learn how to organize virtually, too. A few days later, I signed up for it. I successfully completed the course and now offer Virtual Organizing as part of my list of services.  I still work with clients in their homes but I'm excited to organize those in different regions and time zones, too.
Have you been thinking about getting organized but didn't realize that Virtual Organizing was an option for you?
Here are 5 Reasons Why You Should Try Virtual Organizing:
• You don't have a Professional Organizer in your area
Although there are over 4,000 members of NAPO, you may not have a Professional Organizer in your immediate area. Maybe you need a Professional Organizer with a specialization or particular skill set. That Professional Organizer is just a phone call, email, or FaceTime session away from helping you reach your organizing goals.
• You want/need accountability or support for your organizing project
You started organizing a space in your home but the project stalled for a multitude of reasons. That's OK–it happens. Working with a Professional Organizer 'virtually' can provide you with someone to check in with, help get you back on track, and to your measure progress. They'll be a cheerleader, resource, teacher, and provide ideas, motivation, and support. Consistently moving your organizing project forward is key to it's completion–Virtual Organizing can make that happen.
• You don't want a stranger in your home
There are hundreds of reasons why you may not want a stranger in your home. Maybe you have small children, a sick family member living with you, or maybe you have white carpeting and want to keep it as white as possible by having as few people in your home as possible. Or, you may have something in your home that you don't necessarily want people to see (besides the disorganization). Virtual Organizing is a way of inviting a Professional Organizer into your home without actually having them walk inside.
• You would prefer to do the 'physical organizing' when it's convenient for you
Does your work schedule change often? Are you a night owl or an early riser? You may want to do the physical work of organizing when you have a pocket of time or when you have the most energy. This might not necessarily be when a Professional Organizer could come to your home (I don't know many Organizers who start at 6am or see clients at midnight…). So, schedule your 'virtual' appointment with your Professional Organizer and block out time on your calendar to do the required sorting/purging/labeling/filing when it works best for you.
• You prefer to be comfortable. Really comfortable.
Organizing 'virtually' means you can organize in your PAJAMAS! No need to get dressed if a Professional Organizer won't be coming to your home for two or three hours. Other Professional Organizers might mind, but I don't care if you FaceTime with me in your pajamas or bathrobe. I, on the other hand will be dressed (unless we mutually agree on a 'pajama day…').
With today's technology, Virtual Organizing makes perfect sense. Can you picture yourself getting organized 'virtually?' If the answer is 'Yes,' click here to see how Organized Artistry and Virtual Organizing can bring organization to your home and life from miles away.
Transform your home from the comfort of your home…with Virtual Organizing.