The Organized Bride's Thank You Note Handbook
Let Systems and 101 Modern Sample Thank You Notes Take You from Overwhelmed to Organized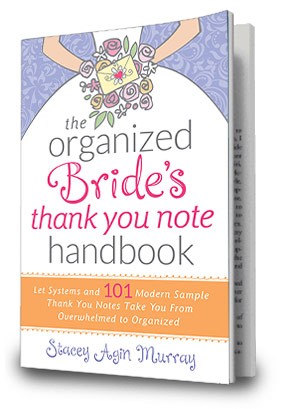 Available in paperback on Amazon.com 
Engagement gifts, bridal shower gifts, wedding gifts–it's all so exciting and generous and…overwhelming! You have to graciously thank everyone but composing and keeping track of tens to hundreds of notes can be an organizational nightmare. If you've ever thought to yourself, "How will I write and keep track of all of these thank you notes without pulling my hair out?" then this book is for you.
The Organized Bride's Thank You Note Handbook…
Jumpstarts the thank you note writing process with 101 modern sample thank you notes.
Takes the stress out of writing nuptial-related thank you notes with systems, organizing tips and helpful hints.
Streamlines the overwhelming thank you note writing process with basic organizing principles and valuable recommendations from a veteran Professional Organizer.
Whether you're recently engaged or newly married, you'll find this handbook an essential addition to your wedding library–one you'll want to keep close by as the gifts arrive on your doorstep.
Don't walk down the aisle without it!
'Like' The Organized Bride's Thank You Note Handbook on Facebook!
Testimonials from brides who have 'been there…'
"I wish a book like this existed when I was writing thank you notes!" -L.C.F.
"I love the playful tone of the book. I only wish I had such vivid and lively examples available when I was writing my wedding thank you cards!" -S.P.M.
(The Organized Bride's Thank You Note Handbook) …"was engaging, funny, relatable and an easy read. This is exactly what I would want out of this type of book". -E.D.F.
SHARE THIS:
---
7 Steps to an Organized Wedding Thank You Note
A Bride and Groom's Guide to Staying Sane During the Thank You Note Writing Process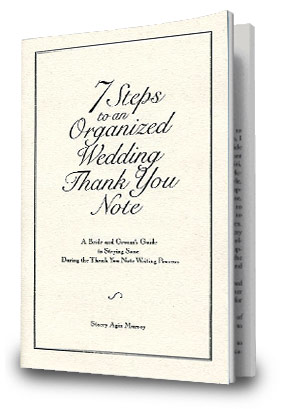 Are you suffering from 'I-Don't-Know-What-to-Write' Syndrome? Let 7 Steps to an Organized Wedding Thank You Note be the cure!
In this quick-reference guide, Professional Organizer Stacey Agin Murray offers brides and grooms a 7-step system for organizing the content of their nuptial-related thank you notes as well as tools, tips, and helpful hints for organizing the note writing process.
The 7 Step System…
Helps brides and grooms create a system for writing their engagement, shower, and wedding-related thank you notes.
Offers tips and tricks for keeping the thank you note writing process organized.
Makes the lives of brides and grooms much easier and less stressful!
Don't be surprised when people start thanking YOU for YOUR thank you note!
ISBN-10: 0981517501
ISBN-13: 978-0981517506
Testimonials
"It has been a complete lifesaver and without a doubt my most useful wedding gift. I am planning
to make it a standard for any brides-to-be I come in contact with…" -Alice, NM
"A very informative and helpful guide book. A must for writing your thank you notes after your engagement, bridal shower and wedding." -Bestweddingsites.com
"This book was the perfect little top to a shower gift from one of my dear friends! I've used it for all of the gifts we've received for our wedding and it's made the process so much less stressful! A jewel of a book I'd recommend to everyone." -M.K., MA
Reviews
Press Release
June Brides Now Have Time for Beach and BBQ's
SHARE THIS:
Writing has always played 'second banana' to Stacey's career as a Professional Organizer. She has written numerous articles on the topic of organizing and now pens her ideas as a blogger and author.
After her wedding in 2000 and starting her business in 2002, Stacey wrote the quick-reference guide, 7 Steps to an Organized Wedding Thank You Note. Ten years and two children later, Stacey took her quick-reference guide one step further by writing the book she wished had existed when she walked down the aisle: The Organized Bride's Thank You Note Handbook: Let Systems and 101 Modern Sample Thank You Notes Take You from Overwhelmed to Organized.
Available in paperback on Amazon.com.
---
Contact Information:
*The best way to get in touch with Stacey
A: PO Box 2682 • Fair Lawn, NJ 07410
T: 201-703-8438
---
Connect with us on social media
for the latest from Organized Artistry





---
Sign up for the Organized Artistry newsletter! What bride-to-be couldn't use some monthly motivation and organizing tips? Go ahead–click the Subscribe button!