I just received The Container Store's Happy Organized Home Sale catalog. Lotsa great organizing products–and at affordable prices, too.
But, I HAD to share what I think is one of the most creative transformations of an already existing product…
Have you seen those jewelry organizers you hang in your closet? Some of them look like this: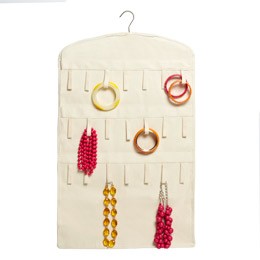 Jewelry organizers like this one are functional and utilitarian. But look what else you could have hanging in your closet to organize your beads and baubles: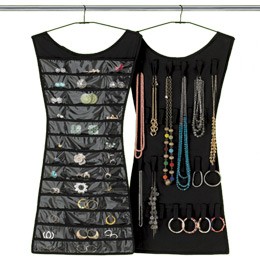 I took one look at this and thought, 'COOL!' Besides the fact that it holds a boat-load of jewelry, it looks like a dress in your closet! Made by Umbra exclusively for The Container Store, the 'Little Black Dress Hanging Jewelry Organizer' is made from cotton canvas and features 39 pockets and 24 hook and loop closures.
So if you need a new way to organize your jewels and have some room in your closet, check out The Little Black Dress. Umbra definitely knows style…