This is my first official blog post on WordPress. I think it took me longer to format it than to write it! I'm getting used to living in my new WordPress home but I'm still bumping into walls and I haven't unpacked all the boxes yet…
It's been a while since I've written for my blog. I've been a little busy moving my business forward in some exciting ways.
1) My new logo. Since you're reading this you've probably already seen my new logo designed by the talented Kate McMillan of Outbox Online Design. Look up–it's at the top of the page. I just love that squiggle…
2) My new business cards. If you have a new logo, you have to have new business cards!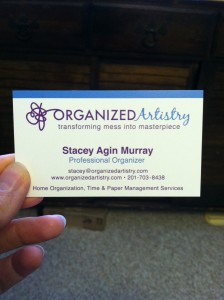 3) My first promotional item. Shortly after my logo was designed, I was asked to sit on a panel made up of women who had started their own business. I was going to have a table and answer participants' questions about being in and starting their own business. I felt like I needed some kind of product as a giveaway but in twelve years of business, I had never created one! I thought about what people would use most and thought the pen was a perfect first promotional item
Here's my Organized Artistry pen!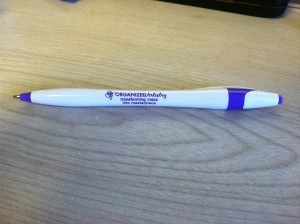 4) My new website. Also designed by Kate McMillan of Outbox Online Design. My old website was first designed in 2002 and boy did it need a makeover! Now it is a beautiful and modern showcase of my writing and how I help people get and stay organized. I'm thrilled that my blog is now part of the site.
Speaking of writing, this is BIG news…
5) My book. Long story short, I've been writing this book on and off since 2002. The manuscript went in and out of the file cabinet many times over almost a decade until I decided one day, 'Publish or Bust.' Here is a sneak peek of the cover, designed by the talented Peri Poloni-Gabriel of Knockout Design (she'll be designing the interior, too). I love it–and no, I didn't ask the designer to make the background purple to match my website–total coincidence…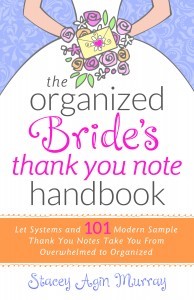 Coming Summer 2014 in e-book and paperback:
The Organized Bride's Thank You Note Handbook: Let Systems and 101 Modern Sample Thank You Notes Take You From Overwhelmed to Organized
If you know anyone who just got engaged or is about to walk down the aisle, please 'Pin' or share this photo with them!
It has been a VERY busy 2013-14 for Organized Artistry. I've met many of the goals I set for my business–still a few more to go. Nothing happened overnight. Each step took time and sometimes the steps took a few wrong turns. But, I am grateful for the journey and all the people who have helped me get this far.
CLICK HERE to sign up for Organized Artistry's motivating monthly newsletter!