If it's August, it must be back-to-school season! Time to buy school supplies, new clothes and shoes and get back into routines.
It's also a time that includes figuring out what's for supper every night. If you need some meal planning ideas, check out this article…
Real Moms Share: Easy Ways to Plan Meals for the Week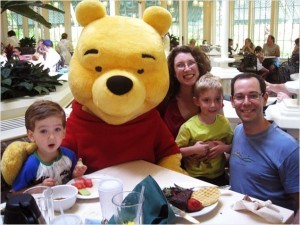 Photo of my family at Disney enjoying a meal–not planned by me!
It just so happens that I give tip #8 and Michelle Obama, our First Lady offers the first one. Hope you pick up some good ideas–I did! Even a Professional Organizer needs help with meal planning sometimes…