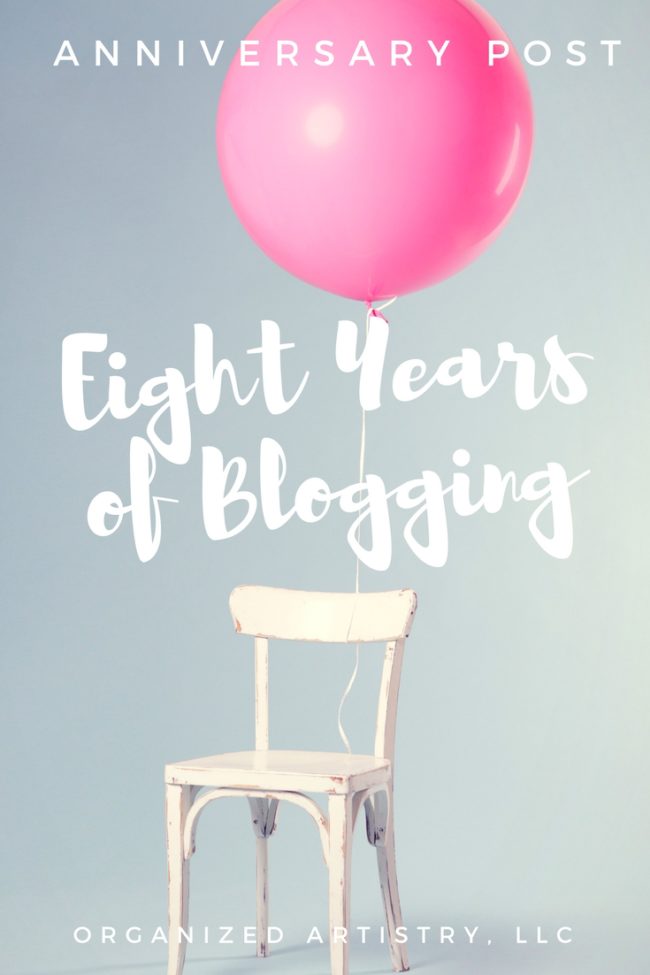 This October marks the 8th anniversary of my blog. That's A LOT of idea-generation, image creating, and typing!
I started my blog in October of 2009 shortly after I signed my son up for preschool. This was before I was on Facebook, before Pinterest was created, and before social media was a 'thing.' (Can you even imagine?!?)   Since then, I've moved my blog from Blogger to Word Press, had a second child, and joined Facebook, Pinterest, and LinkedIn. Oh, and I wrote a book and survived a major home renovation project, too. My blog has evolved over time–I have found that doing yearly goal-setting has helped me stay on track.
In past 'blogiversary' posts, I've set blogging goals for the year ahead. I didn't do too badly in 2017…
My 2017 goals:
• Boosting Pinterest traffic to my website/blog
Success! In checking my blog 'stats,' the top place where people are coming from to check out my blog and website is Pinterest. My most popular pin on Pinterest is the blog post I wrote back in February, " 3 Thought-Provoking Ted Talks That Will Inspire You to Get Organized." I still 'heart' Pinterest and see it as a integral part of my online presence for 2018.
• Create images in Canva
Success! I created a Canva image for each of my new blog posts and slowly, slowly, I am updating images from old blog posts using Canva. It's a great way to freshen up an older yet still relevant blog post. My previous life as a graphic designer has really come in handy…
• Create a blogging calendar
I've tried this so many times but have not found success with creating a blogging calendar. Instead, I created a paper Blog Post Template which helps me to organize my thoughts on a topic I intend to blog about. The template is a place to brain dump my ideas, jot down keywords and alt-image text for Pinterest, and websites I'll want to link to in my post. Half the work of writing a blog post is done once I've filled out my template. So, although I did not find success with a blog calendar, I created a thought-organizing tool that did work for me.
• Stop comparing myself to other bloggers
For the most part, I've been good at this. I've noticed that blogging has changed–it isn't what it was when I started eight years ago. For many, blogging has evolved as a full-time business and that is something I cannot keep up with and do not wish for as part of my business model. I'll be putting my time into some new and exciting ventures such as Virtual Organizing, marketing my wedding thank you note book, and outlining some ideas for my next book.
My 2018 goals:
• Keep using Canva to update images on already existing blog posts
Right now, half of my blog posts have Canva, Pinterest-worthy, and ready images. I'll be chipping away at my blog title list to replace old images with new Canva-generated ones.
• Blog a minimum of 1x a month
At the beginning of 2017, I set a goal for myself–post to my blog a minimum of 2x a month. I did OK in the beginning but as my client list got longer and other Organized Artistry projects took precedence, blogging got left on the back burner. Creating the Blog Post Template helped me solidify future post ideas and I'll be using it in 2018. So, my goal is to blog 1x a month but if I write two posts in a month or three posts in two months then YAY ME.
Onward to blogging in 2018!