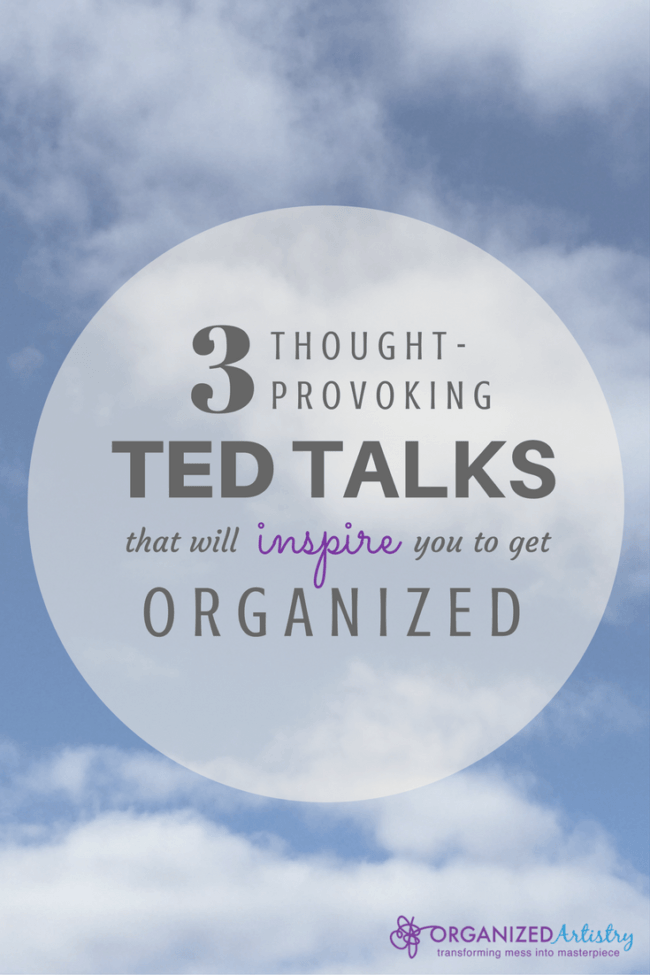 Do you ever watch TED Talks? I love watching TED Talks.
If I get to watch at least one a day I'm a happy camper. I watch them while I'm cooking, while I'm on the treadmill, and while I'm eating lunch at my computer. If I don't have the time, I use one of my favorite apps, Pocket to store them until I have a free 20 minutes to watch.
TED began as a conference in California in 1984–five years before the birth of the World Wide Web. TED stands for Technology, Entertainment and Design.  It's mission is to spread knowledge and since it's inception, TED Talks have had attracted over a billion views online–there's a lot more knowledgeable people in this world thanks to TED!
With all my TED Talk watching, I was curious as to whether there were any talks on the topic of Organizing. Well–there are! No one is sorting through papers or an overstuffed garage on stage, but the TED Talks I've selected are based on an 'organizing' theme. Carve out time in your day to watch them–you may learn something new just like I did…
Jessi Arrington: Wearing Nothing New
In my opinion, Jessi is one brave woman. She packed seven pair of underwear for her trip to Los Angeles to do her TED Talk. My heart is palpitating just thinking about it. When she got off the plane with her very tiny suitcase, she went shopping for clothes at local thrift stores in order to "reduce the impact of her wardrobe on the environment and her wallet." I don't expect you to watch this and then travel light, but listening to what she has to say, might cause you to take a good look at the clothes in your closet.

Laura Vanderkam: How To Gain Control of Your Free Time
Laura Vanderkam writes about Time Management. She says, "Time is highly elastic. We cannot make more time but time will stretch to accommodate what we choose to put into it." Basically–it's all about priorities. Your priorities. Your schedule and your choices. Listen to her TED Talk and think about how you use your time…

Tim Urban: Inside the Mind of a Master Procrastinator
Do you procrastinate often?  Whether you do or not, you're going to get a good laugh out of this funny TED Talk. You might even see a bit of yourself in Tim Urban. Think about what you might be procrastinating on and watch out for the 'monkey.'

*BONUS* TED TALK–Yes–I said '3' in the title but this one is short–only around 5 minutes long: Mundano: Pimp My…Trash Cart?.
The unsung heroes of the organizing world are garbage men. They take away what we no longer want in our lives and are not always highly regarded for their work. Watch how one artist in Brazil took the work of Catadores, people who collect recycling, and transformed their work into an art form to be celebrated and appreciated by their communities.
Which Ted Talk resonated with you? Share your thoughts in the comments below.
Click here to sign up for Organized Artistry's motivating monthly newsletter!