Landed around 6pm and by the time I got to the Sheraton New Orleans, I was hungry. Hubby and I are members of the Starwood Preferred Guest program so I was able to use points to cover the cost of my room and upgrade me to the Club Floor. On the Club Floor is the Club Lounge. In the Club Lounge there is food–breakfast in the morning and hors d'oeuvres in the evening. The night I landed, alligator meatballs and frog legs were on the menu. I had my doubts but ate them anyway. YUM!
Now I can say I've eaten alligator–can you?
Three days of workshops, panels and lunches kept me very busy. But, year after year one of the most exciting parts of the NAPO Conference is the EXPO. The EXPO is a place for companies that specialize in organizing products and services to 'share their wares' with the Professional Organizer community.
Since I traveled with one carry-on bag and a purse, I tried my best to not grab every product sample and brochure available to me. Instead, I took pictures of some of the 'cool products' to remind me to look for them in stores and so I could share them with you.
Dishwasher safe, BPA free, stackable, see-throught lids–perfect for pantries.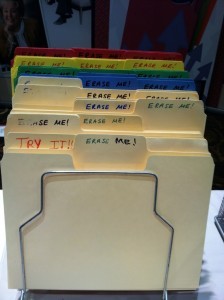 SMEAD Erasable SuperTab File Folders
Next is the ColorVue Expanding File with SuperTabs–colorful and easy to use! Perfect for color coding. I put my hand in the middle of the 'V' shape and it was very easy to retrieve papers from the pockets.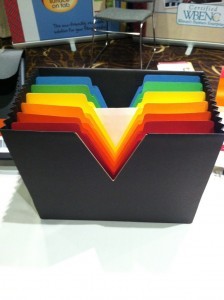 ColorVue Expanding File with SuperTab by SMEAD
'Tree Free'–I love that name. Whoever thought of it should get a raise, in my opinion. They are made from sugar cane waste fiber. I have no idea what that is but it saves trees so it's OK by me. Super Tabs–another great idea especially for those who have 'large' handwriting or a lot to say on the tab of a folder.