I just had the opportunity to attend the National Association of Professional Organizers (NAPO) Annual Conference in Los Angeles, CA (can you imagine 600+ Professional Organizers in one place at one time?). Since my first conference back in 2004, I've stuck to the east coast and midwest locations. Jet lag is not my best friend but this year, I decided to not let that stop me. I heard the whispers…
"Go west, young lady!"
And so I did! Off to the 2015 NAPO Conference in sunny Los Angeles I went. And besides looking forward to learning and networking, I was looking forward to that California sun. The winter here in NJ was long and dreary and I needed some natural Vitamin D to jumpstart my body for Spring. The five hour flight provided me with time to indulge in a novel–what a 'novel' idea since most books I have read lately have to do with my business, my kids, or health. If you'd like to read a great book, try Girl with a Pearl Earring by Tracy Chevalier.
This year, my Conference experience was a bit different. With two kids at home, it's not easy to get away for an extended period of time. I usually get to the Conference as soon as it begins and leave as it's ending. This year, I flew in the afternoon before and stayed an extra day to visit with my cousin. Took the red-eye flight and was home before 8am. Shout-out to my hubby for 'holding down the fort' so I could grow in my career and visit with family in L.A..
Also different about this year's Conference: my book. I belong to a NAPO Special Interest Group (SIG) for people who are or wish to be authors. This year at our EXPO/Marketplace, our SIG had a bookstore and I jumped at the opportunity to sell my book, The Organized Bride's Thank You Note Handbook in the bookstore along with more than twenty of my PO/Author colleagues. Besides having my book on display for purchase, I had a book signing which was a ton of fun. I signed books while wearing a tiara and veil–it definitely drew people to my table!
The EXPO/Marketplace was abuzz with large and small companies showing off their organizing wares to the attendees. Some of the booths I found to have interesting products were: Forever, Time Timer, and of course–Pendaflex which gave out a bountiful goody bag to everyone who walked by. Who could resist?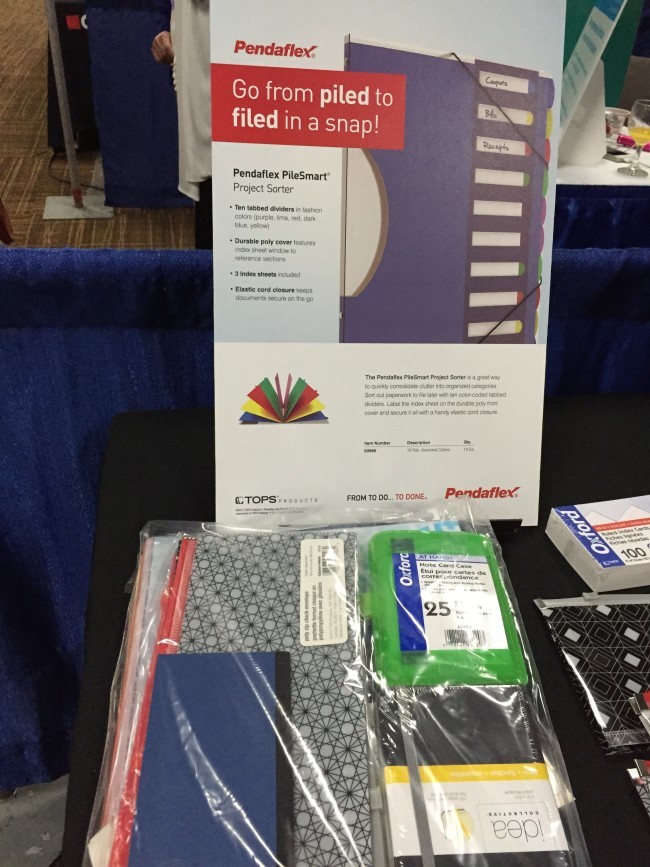 The NAPO Conference is always chock full of interesting workshops. This year, I took classes in Virtual Organizing, Branding, Digital Photo Organizing, YouTube Video Marketing, and Using Technology to Increase Productivity. Learned a few things I didn't know in an Evernote workshop, too.  There was an 'Ask the Business Organizer' panel and an Opening and Closing Keynote. The Opening Keynote was done by two guys who call themselves 'The Minimalists.' If you haven't read their blog and their back story (which was fascinating) check out The Minimalist's website.
This has very little to do with organizing but I felt the need to snap a picture of this yummy dessert we were served at our last lunch of the Conference.. And yes, it was as good as it looks…
After three days of workshops, networking, and noshing it was time to leave the Westin Bonaventure and meet up with my cousin who is a life-long resident of Los Angeles. We had about 24 hours together and I got to see the highlights of L.A. including a quick trip to a beautiful place I must get back to someday–The Getty Museum.
The day I returned from the NAPO Conference, my son was on Spring Break. This week I've been catching up with organizing appointments and meeting with prospective clients. Next week, I'll be focusing on what I learned in the classes I took at the NAPO Conference and bit by bit will be incorporating the knowledge into my business. I've already got my sights set on attending the NAPO Conference in Atlanta in 2016. No jet-lag worries! Can't wait–it should be just peachy…