Since I started organizing in 2002, there have been a few magazines dedicated to organizing and it's profession. The first one was called Balance. The second one was called Organize–lucky me had the privilege of being involved with it at its inception as the author of the 'Organizing on a Shoestring' column.
Now, a new magazine has been created for Professional Organizers and anyone interested in getting and staying organized. It's called: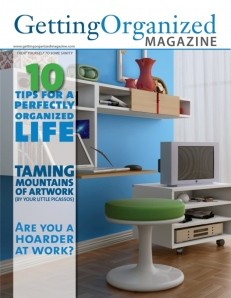 Getting Organized Magazine is the brain-child of Stacey Anderson, a Professional Organizer in the State of Washington. According to her blog, Stacey says, "This is a magazine that will cover everything organizing: home, work, technology, paper, time management, ADD/ADHD, book reviews and much more."
Go check out the website! It features articles, tips, videos, experts, events, and resources.
For a sneak peek of the first issue coming out in January 2012, click here.
If you'd like to follow the magazine on Facebook, click here.
There are two ways to subscribe–by print (arriving in your mailbox) or by electronic/digital file (arriving in your inbox). I'm not sure which I'll choose but as soon as I decide, I'll be signing up for my subscription to Getting Organized Magazine…