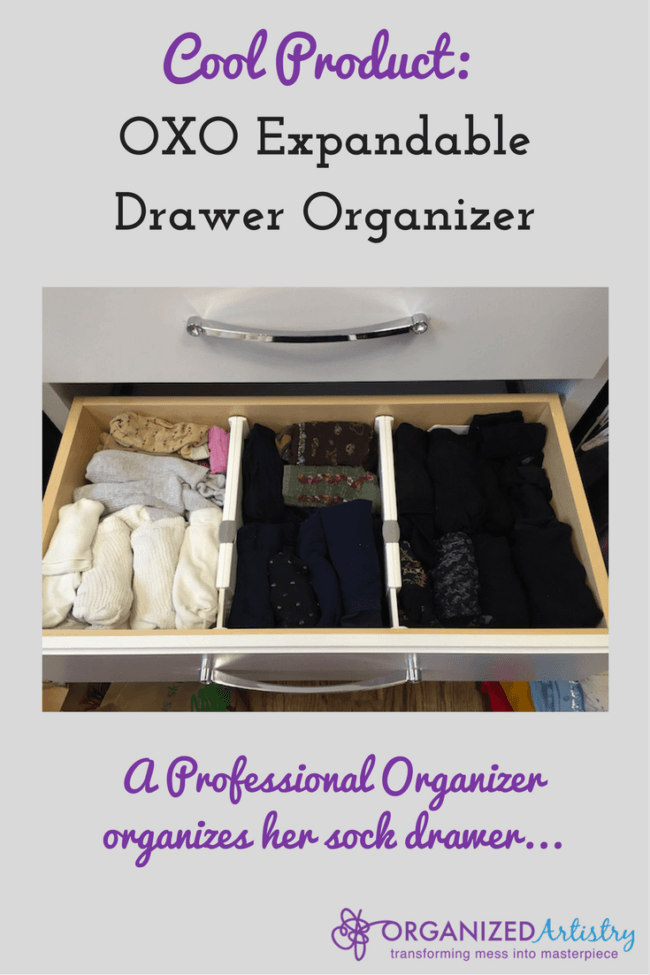 Stylists recommend matching your shoe and sock color to make you look taller. As a petite woman, I don't want to appear any shorter than I already am so I try to match my sock color to my pant or shoe color. Sometimes all three are the same color and I'm feelin' pretty tall!
Then one day, I left the house wearing black pants and navy blue socks.
Some of you might say, 'So, what?' Some of you might be shrieking in horror. I was shrieking.
When I got home later that day, I looked closely at my sock drawer. One side was for lighter colored socks and one side was for darker colored socks. The lighting in my bedroom wasn't that fabulous. I could see that my navy blue and black socks (especially the knee-hi's) were looking a lot alike. Something had to be done to prevent another fashion faux-pas!
Now, this scenario pre-dates my professional organizing days by about five years, but organizing is in my DNA so I set out to find a solution. I needed an easy, low-to-no-cost product that would separate my socks so I could find the color I needed quickly. I ended up getting a box from my neighborhood liquor store, took careful measurements and cut the cardboard. Twenty minutes later, I had sock drawer dividers!
Believe it or not, these pieces of cardboard survived three moves and many sock drawer purges. But after close to twenty years of service, I decided to retire my cardboard drawer dividers. We had recently renovated our home and the built-in dresser in my new closet had different dimensions. It was time to look for an upgrade.
I took to the internet to assist in my search for souped-up drawer dividers. After reviewing sizes, colors, and pricing, it was a no-brainer. It had to be an OXO product–The OXO Expandable Drawer Organizer (set of two).
I love OXO products. To put it bluntly–they're made well with ergonomics in mind. I love, love, love my OXO POP Containers and other OXO kitchen tools I own. For years. Still working. Still in great condition.
From their website:
"OXO is dedicated to providing innovative consumer products that make everyday living easier. OXO was founded on the philosophy of Universal Design, which means the design of products usable by as many people as possible."
But, did I really need an OXO product in my sock drawer? Once you install the drawer dividers, they just sit there doing their dividing job–right?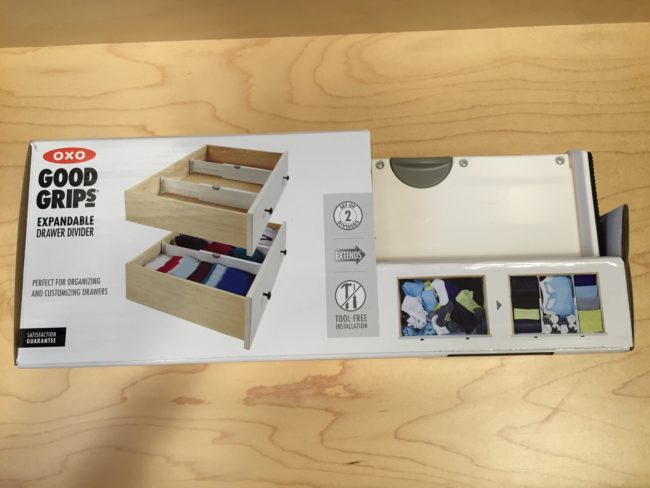 Here's why I purchased the OXO Expandable Drawer Organizer…
Reputation – OXO has a long-time reputation for creating products with the user in mind. They've been around since 1990 and continue to create innovative tools for everyday life.
Design – I liked the way the dividers looked. They're white and match my drawers. They have rubber ends so they don't damage the inside of drawers.
Construction – OXO makes their products out of sturdy plastics and these drawer dividers are no different. When I took them out of the box, I felt the expansion mechanism was sturdy and would hold up to repeated changes in size if I needed to use them elsewhere someday. I was willing to spend a little more money on them because I felt they would last.
Reliability –  I've had OXO products in my kitchen that were given to me as bridal shower gifts. Sixteen years later, I'm still using many of them. If kitchen tools I use multiple times a week can last almost two decades, so can drawer dividers.
Bonus: I also had a 20% off Bed Bath and Beyond coupon which made the purchase a little easier on the wallet. And it makes me happy to look at them every time I open my sock drawer. There's something to be said for that, too. I've been using them for six months and no complaints from me or my socks. They're working well, looking great and my black and blue socks live on opposite sides of the divider.
So, if your socks drawer needs some organization, consider using one or two sets of The OXO Expandable Drawer Organizer. It's my latest 'Cool Product' pick.
What have you done to make your socks easier to find?
CLICK HERE to sign up for Organized Artistry's motivating monthly newsletter!