If you've been following my recent Organizing MY Home series, you know that I moved twice in one year due to an addition/renovation project.  Part of what made such an upheaval bearable and organized were a few key moving tips I created for myself and a packing list system that helped us find anything we needed while we were living in our rental space.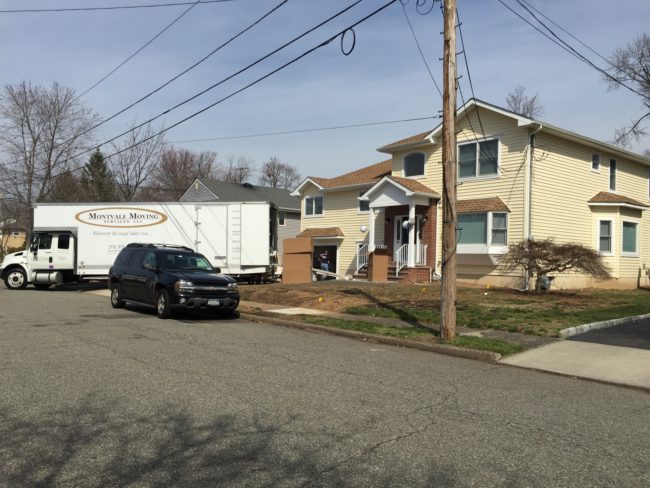 This wasn't your typical move from one home to another. We were packing up our entire house, moving it to a rental property but not opening all our boxes and setting up to stay. Our plan was to only open boxes of items we truly needed and keep most of the rest sealed until we returned to our renovated home.
As a Professional Organizer, I have offered clients packing ideas but never for a double move. I also hadn't packed up and moved myself for many years so I took to the internet and did some research on line on how best to pack an entire home. I came across a few posts, mostly from military wives who had lots of practice packing and relocating their households and gleaned some ideas from their experience. I quickly learned that writing the contents on the outside of the box is a magnet for unscrupulous movers. And what if we stacked the boxes so we couldn't see what was written on the outside? I needed some other ideas. I then came across this post from DesignMom. I didn't follow exactly what she did –but it (as well as the post comments) gave me some good ideas that I adapted to our particular situation.
Based on ideas I read in the above post, I chose to create a numbering system that would enable my husband and I to track and quickly locate of all our belongings during both moves. My husband created the cover sheet and tracking sheets of the packing list and left a few lines blank for anything we needed to add.
Each room in our home received a number series. As we packed items from each room, we wrote down the contents of the box on the line next to the box number. We also jotted down where the contents/box would be in our rental and where it would go once it came back to our renovated home. An example is below:
Here's the breakdown of the columns on the page:
• Top of the page: Room Name (also written at the bottom of page–not shown in photo)
• Column 1: Box number
• Column 2: Where box is going in rental home (a room vs. the garage for storage)
• Column 3: What room the box will go to when it comes back to our renovated home (our address was originally next to the word 'Location')
• Column 4: Contents of the box
In the above photo, the 'Green Room' (the walls had been green for many years) at this point only had one box. This was because my home office was relocated there after our second child was born and the contents of the room would eventually be spread to three different spaces after we moved back in. Lucky for us, our rental space was a split level very similar to ours so you see in column 2 that we figured the box would either live in the garage or be unpacked into the rental home's equivalent of our 'Green Room.' In box 701 (column 1), was framed family pictures (column 4) (they ended up in the garage) that eventually would live in my home office and my husband's home office (column 3).
Depending upon the room and it's contents, some of the pages looked fairly empty. Then there are rooms such as the kitchen that practically filled two pages! (Yes–we did purge before packing.) Notice–the top part of the page dealt with the move to the rental property while the bottom part (and the next page, too) dealt with the move back to our home. We unpacked much of our kitchen stuff and then had to repack it for the move home. Example:
You might be thinking, "This sounds like A LOT of work!' Yes, it was a lot of work! But, when it comes to time management, I advise my clients that spending more time at the beginning of a project will save you time at the end of it. Take the time to write the contents of each box on your list. You'll be happy you did when you're looking for an item you need!
This system isn't just for double moves. You can delete a column or add an extra one for your unique moving situation. My husband and I found this system to be incredibly helpful in keeping us organized and knowing where to find all that we owned.
A few tips for using this packing system:
• If you are keeping some numbered boxes in storage for a while, group the boxes by 'like' numbers (all 200's together, all 500's together, etc). It will make finding the box you need much less time consuming!
• Write the box numbers on the top and at least two sides of the box–the more sides the better–a good task for kids old enough to write!
• Use a thick dark colored marker for writing the numbers on the boxes. Buy a box of them–they will run out of ink quickly from numbering all of those sides!
•  When you are finished packing, back it up! Make a photocopy of the Master List and put it somewhere safe and take pictures of each page with your phone.
• Designate one spot to keep your Master List in so you'll always know where to return it to and where to find it the next time you want to pack/unpack more boxes.
We've been living in our renovated home almost six months and some of our boxes are not yet unpacked. I still refer to the Master List when I'm looking for something and it sits in the same spot I designated for it the day we moved back in. As helpful as this system was, my husband and I agree–we're not moving again for a LONG time!
Could this system be helpful to you in a move? Let me know in the comments below.
CLICK HERE to sign up for Organized Artistry's motivating monthly newsletter!