I haven't moved much in my lifetime. I went away to college and moved some of my stuff with me. As a single gal, I moved in and out of a one bedroom apartment, then moved those belongings to a house when I got married. After that, no moving for fourteen years.
So, when my husband and I decided to renovate and add on to our home, we chose to move our family and 98% of what we owned to a rental across town for the duration of the project. Once our house was finished we would pack up again and move back in. Two moves in one year. Gulp. I was a little out of practice. But, I knew that if we were organized, we'd get the job done with barely a few mishaps.
Here are some tips that helped us have an organized move (twice!):
Start purging early
If you have been in one place for a while, you have probably accumulated some 'stuff.' For some of you, you might have A LOT of 'stuff.' Advice that I learned early on and continue to pass on to my clients is, "Don't pay to move anything you don't want moved in the first place." With that quote in mind, I created the 'two-can' rule. Every weekend, we purged an area of our home and made sure to fill our two garbage cans before trash collection day. Making decisions can take a while–my recommendation is to start purging as soon as you know you'll be moving.
Delegate
It takes a village to pack up a home and move so line up your villagers and let them know how they can help! Some examples of how they can help you are:
-Get your kids involved. Have them crumple up newspaper. Have them bring empty boxes to different rooms. Ask them to purge and pack their own belongings. It is a good exercise in decision-making and takes some tasks off your already-full plate.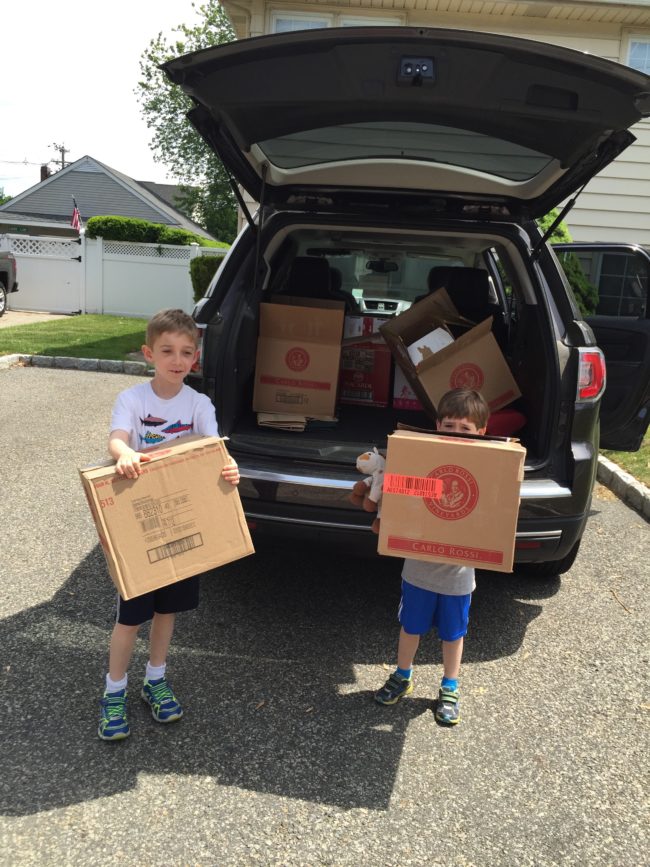 -Ask friends and relatives to bring you their old newspapers, help you pack boxes, hold onto valuables, babysit your kids–whatever you need to ensure a smooth packing and moving experience.
-Get it delivered. The internet can be part of your village, too. Run out of packing tape? Order it. Need more boxes quick? Look on Craigslist to see if any of your neighbors are getting rid of boxes and stuffing. Need to research moving companies? Google! And have dinner delivered, too…
–NAPO. Yes–there are Professional Organizers who specialize in packing and moving people. Head to the NAPO website to find someone in your area and let a professional be part of your village.
Organize your packing supplies
If you can, start the packing process as far in advance as you can. You'd be surprised how long it takes to pack an entire home! While you're purging, this would be a great time to start collecting packing supplies such as:
-boxes from the liquor store or from a boxed product other than food
-a minimum of one tape gun per person doing the packing
-packing tape
-newspaper and store circulars
-thick black markers/Sharpies
-bubble wrap/packaging from packages you've received
-scissors/box cutter
-plastic wrap/plastic baggies of varying sizes
-paper/pen/labels
Keep all of your packing supplies in one spot. Use a bucket/caddy large enough to hold your tape gun, scissors, 2-3 black markers, labels, etc. A bucket/caddy is easy to transport from room to room and easy to spot amidst a room full of boxes. Place supplies back in the bucket when you've finished a box-packing session so you'll know where they are the next time you want to fill a box.
Create an organized packing system
We had to keep track of over 100 boxes. Some of those boxes we unpacked in our rental home and some stayed packed for nine months in our garage. In order to find what we needed during those nine months, I had to create a packing system that would allow us to easily locate clothes and other belongings for Summer, Fall and Winter. Keep an eye out for my next post–you'll see the Master Packing List my husband and I created to keep us organized through two moves.
By the way, some things just don't fit easily in a box. Here's how I moved our close-to-full olive oil dispenser–who knew my driver's side cup holder could be the perfect spot to nestle it for the short ride across town?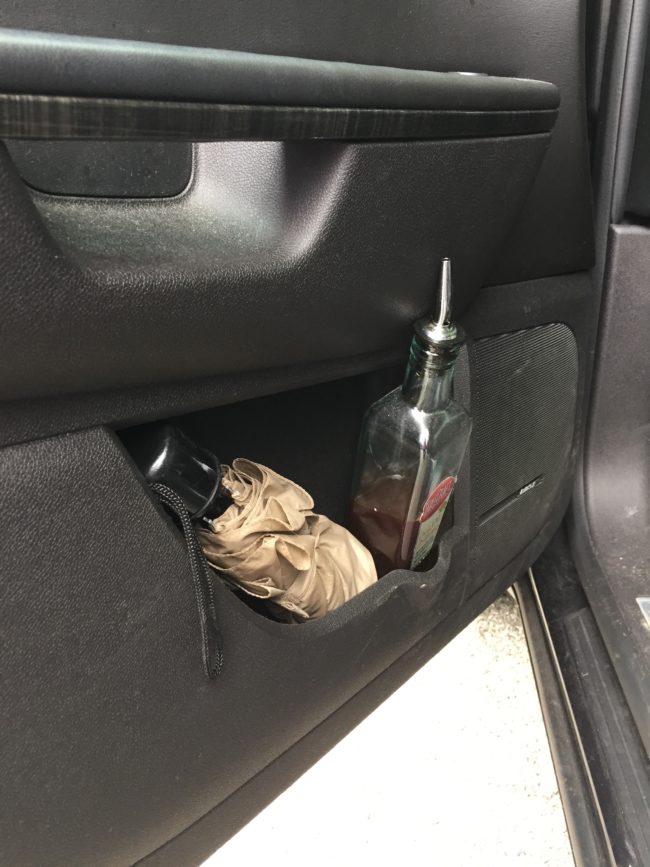 Thanks to some organization, our amazing 'villagers,' and a highly competent moving company, we survived our two moves!
Next post: The packing system that got me through two moves in a year…
CLICK HERE to sign up for Organized Artistry's motivating monthly newsletter!