There is a small but growing group of Professional Organizers who are also published authors. We like to write. We like to organize. We like to write about organizing–what a surprise! My colleague, Professional Organizer Vickie Dellaquila, CPO, CPO-CD of Organization Rules, Inc. is one of those Professional Organizers. She is the author of, Don't Toss My Memories in the Trash: A Step-by-Step Guide to Helping Seniors Downsize, Organize, and Move.
Vickie recently adopted a mascot for her business and her name is Ophelia. She even has her own Facebook page! Ophelia offers answers to people's organizing questions and just started doing book reviews. When I saw her post looking for books to review I popped one in the mail for her to read. Boy, am I glad I did–I think she enjoyed it.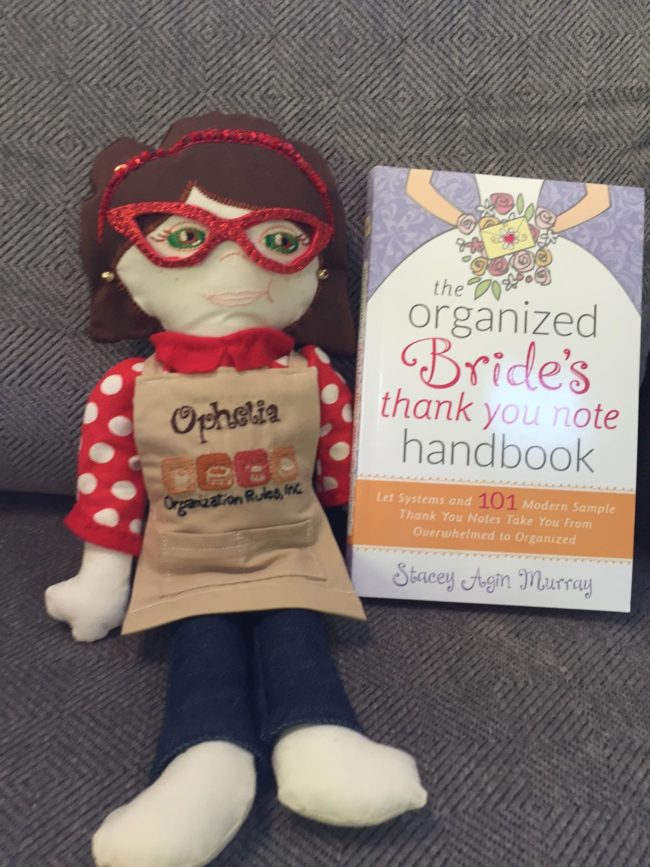 Her review…
"Oh how I wish I had this handbook when I got married! The Organized Bride's Thank You Note Handbook by Stacey Agin Murray is the perfect guide for overwhelmed brides seeking assistance in the daunting task of writing thank you notes. Almost every bride I know has complained about this task specifically due to the amount of legwork and trying to think what to write to people. Stacey has it all here for you in this handbook down to keeping track of who bought you what present and for what occasion (engagement, bridal shower, etc.) to great examples that are personalized, thoughtful, and truly will show your appreciation for each of your wedding guests. I highly recommend The Organized Bride's Thank You Note Handbook to brides out there or newlyweds who are dreading the thank you note writing task. This handbook will guide you through every step of the way and keep you organized with the built in charts. Please do yourself a favor and order your copy before starting your thank you notes!"
Thanks, Ophelia (and Vickie, too)!
I'll be attending the NAPO Conference in Pittsburgh in April 2017 which is Vickie/Ophelia's hometown. I'm looking forward to meeting them and thanking them in person for their lovely review of The Organized Bride's Thank You Note Handbook.
Have you read a book lately? Help an author by writing a review on Amazon or Goodreads–they'll be grateful for your time and words.
CLICK HERE to sign up for Organized Artistry's motivating monthly newsletter!