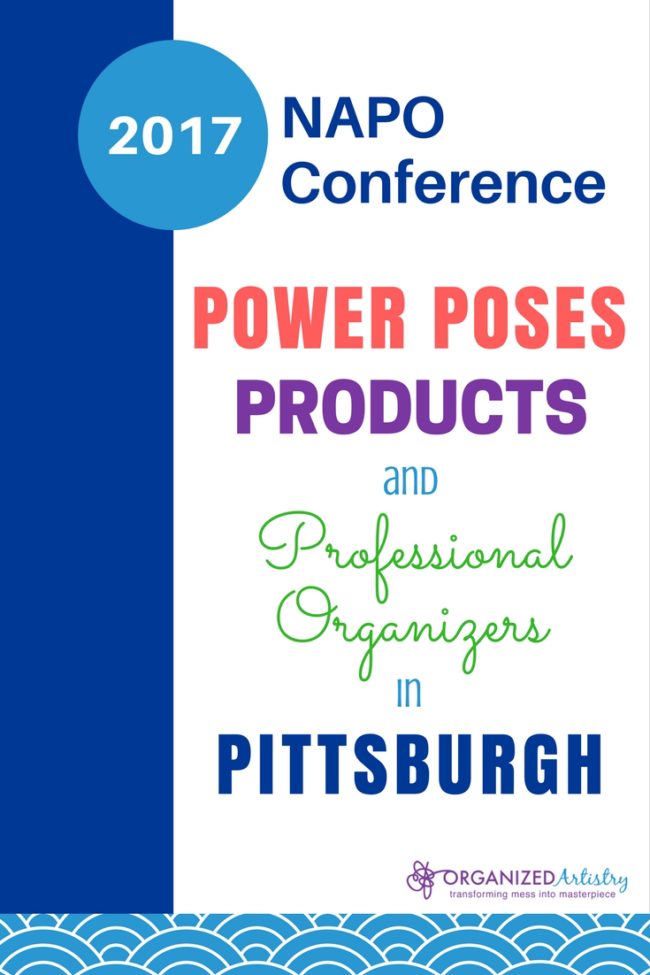 I just flew home from the NAPO Conference in Pittsburgh and boy are my arms tired! But, seriously folks…
Over a week ago, I attended the NAPO 2017 Conference in Pittsburgh, PA. Over 500+ Professional Organizers descended upon 'The Steel City' to learn, network, and talk organizing. I had a fabulous time doing all three.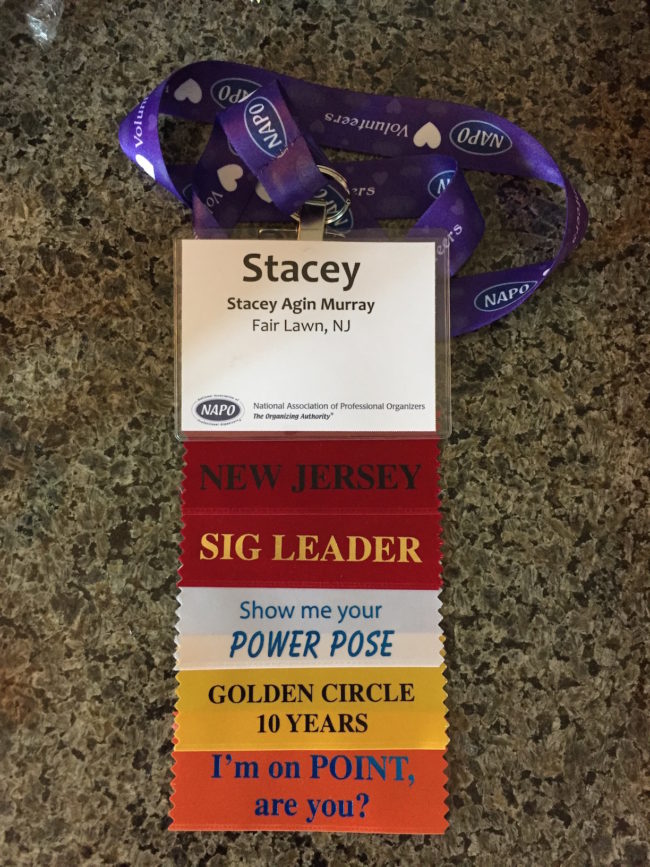 The conference was held at the Westin Pittsburgh which is attached to the David L. Lawrence Convention Center–the two buildings are attached by a short sky bridge. Even though I sat for the workshops, I got a lot of exercise going back and forth between the two buildings (happy Fitbit). And apparently, the Heinz Corporation is headquartered close by. Look at what the NAPO-Pittsburgh chapter gave out to us–itty bitty ketchup and pickle pins. They will definitely be a part of my wardrobe during BBQ season!
After attending the Opening Keynote, I went to the first workshop which this year centered around three TED Talks. I attended the session based on Amy Cuddy's popular TED talk: Your Body Language Shapes Who You Are and learned all about the idea of 'Power Poses.' Next, the EXPO–where organizing-related businesses/organizations showcase their products and services to the attendees of the conference. It's the perfect place to find out about the newest innovations our industry partners have to offer.
This year, I had two EXPO favorites:
OXO. I Love this company. They are experts at combining good design with functionality. I've owned and currently use some of their kitchen products since receiving them at my bridal shower sixteen years ago. On display were two of my personal favorites: OXO POP Containers and their Expandable Drawer Organizer. But, two products that were new to me were their OXO Good Grips Over-the-Door Fold Away Valet and their Large Expandable Utensil Organizer. I love the idea of the retractable valet–great for putting together outfits or for hanging the dry cleaning before it goes back on good hangers in a closet (that's a not-so-subtle reminder that you need to give those wire hangers back to your dry cleaner…). And, when OXO says 'large' they mean LARGE. The utensil organizer is one of the largest I've seen.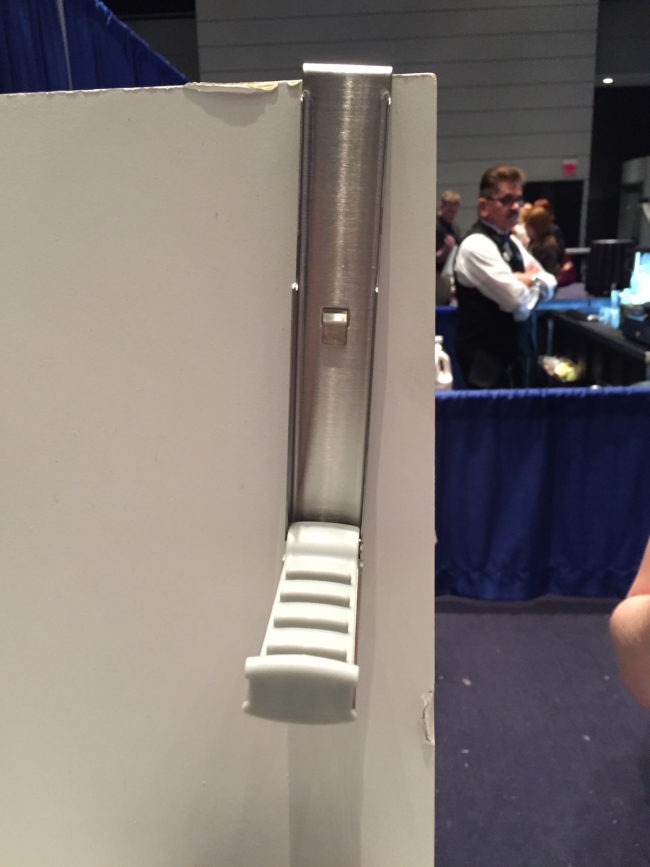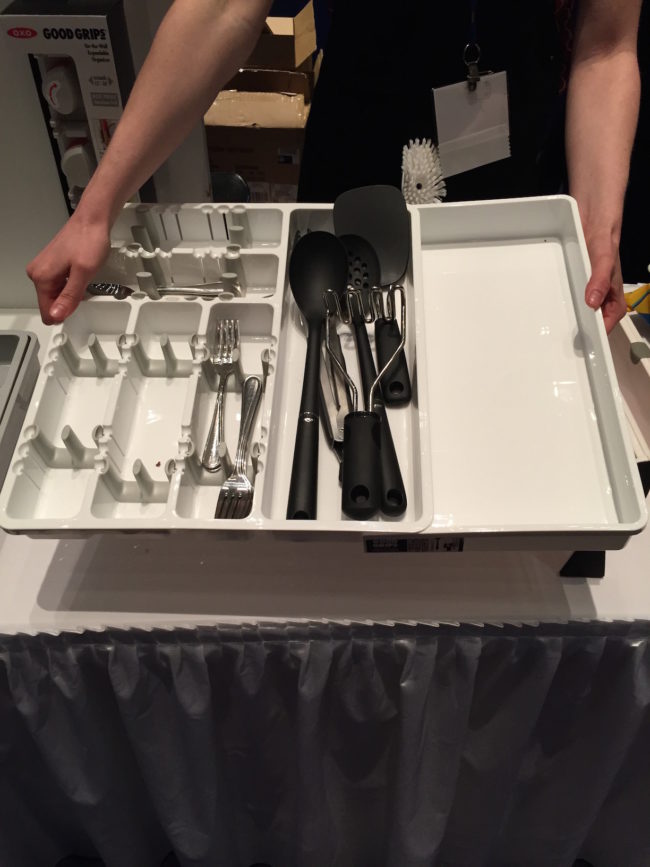 Rubbermaid. My favorite company for bins/totes. They are some of the sturdiest ones you can buy. On display this year were items from their 'Auto Collection.' I was oohing and aaaahing over some of the pieces. They had a small trash receptacle and a 'wedge' to place between seats for pens, paper and other slim items that might otherwise fall through the crack between the seats. Then I saw what I needed for my car–the Single Headrest hook. I'll be looking into buying those for my kids so they have a place to hang their baseball hats, knapsacks, and neck pillows in the car.
The conference is more than the EXPO–there's learnin' to be done! Workshops I learned a lot from:
How to Prioritize When Everything is Important
I wasn't going to take this workshop because I thought I had some pretty decent prioritizing skills. And I do. But, I learned how I can prioritize my work and life EVEN BETTER. I had seen this speaker (NAPO member, Mridu Parikh) at a conference a few years ago and greatly enjoyed her workshop then and now. So glad I decided to make learning about priorities, a priority!
Workshop Tip: If you need help focusing on your work, try using a Pomodoro app.
How to Succeed at Speaking for Fees
After having my second child, I took a break from public speaking. It's been seven years, and I just jumped back into giving presentations. I was thrilled to leave this session with many helpful take-aways that will enable me to grow the public speaking part of my business.
Workshop Tip: Create a title for your presentation that is engaging, clear or intriguing, and shows a benefit to the audience.
How to Get and Keep Media Attention
Most of my media exposure has been in print and online. But, on the off chance I break out of my comfort zone and try to get on TV or Radio, I'll be prepared thanks to this workshop. Lots of talk about the media and how to pitch them stories–my pen worked overtime taking notes in this session!
Workshop Tip: If you want to get on TV, start getting comfortable on video with You Tube.
If you thought all Professional Organizers like to do is sort and measure things, you'd be incorrect. We like to party! Good food, good music, and a little Cha Cha Slide makes for happy organizers. I danced half the night away and got over 14,000 steps on my Fitbit (really happy Fitbit!). Here's many of my NAPO-NNJ colleagues before we hit the dance floor–lookin' great in NAPO blue and white!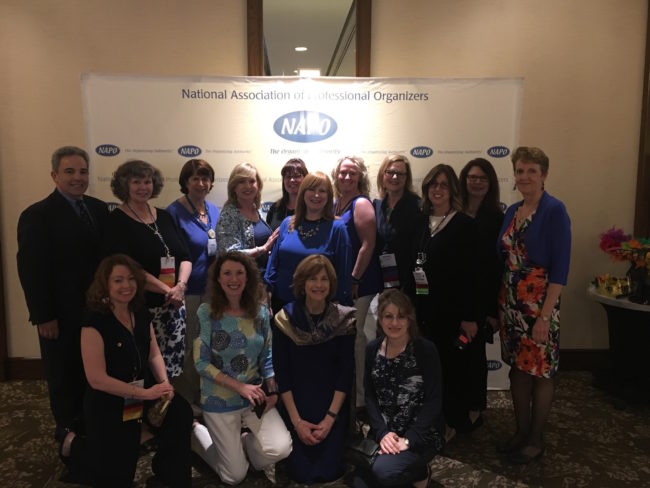 I have to give a shout-out to the peeps of Pittsburgh because everyone I encountered–the staff at the Westin, the airport, the SuperShuttle, and restaurants, were SO NICE! Across the board–helpful, courteous, and pleasant. And boy, do they love their sports–Pirates, Penguins, and Steelers. Lots of people walking around dressed in yellow and black and it's not because they love bumblebees…
A big thank you goes to my hubby for holding down the kid/homework/baseball/meals fort while I was in Pittsburgh. I could not succeed in my business without his support!
At our last lunch of the conference, 2018's conference location was revealed. Next year, something new–a corporate retreat in Chicago. Did they say RETREAT? I'm all over THAT in a big way. I'm starting to relax just THINKING about it. Pardon me while I go register for the retreat…um, I mean conference. Then it's off to do laundry and get back to organizing!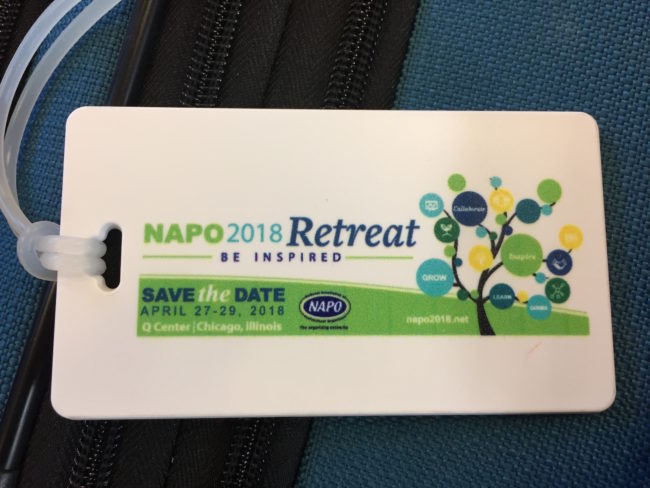 Click here to sign up for Organized Artistry's motivating monthly newsletter!