I'm not old but I'm out of the loop when it comes to certain things like Netflix, iCloud and Instagram. I think all that came out when I was in the middle of parenting two children under the age of five. Sleep deprivation and very little extra room in my brain didn't allow for much more than me learning how to use Facebook and Pinterest (and oh, yeah–taking care of my little ones, too…).
Another new 'thing' I wasn't familiar with was podcasts. I had heard of them. I knew they were recorded audio, not on the radio–but where were they? Were they in that 'cloud' I had no knowledge about either?
Embarrassing, but I had to look up exactly what they were and where I could find some.
I don't have a ton of time to listen to podcasts, but I decided to find some time in my schedule when I discovered a guy in Los Angeles who had a podcast on–you guessed it–organizing! The guy in Los Angeles, is James Lott, Jr. and his podcast is called The Super Organizer Show. He is a highly energetic person who truly loves what he does. One of his wonderful characteristics is that he believes in giving thanks out loud and living in gratitude–that's how he starts all of his shows. Isn't that great?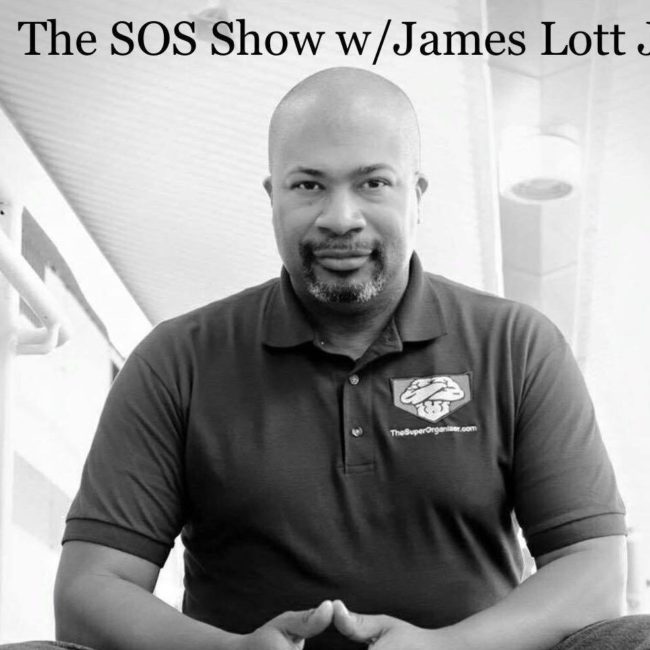 I found out about The Super Organizer Show on Facebook. James had interviewed Ellen Faye, the Past President of NAPO (National Association of Productivity and Organizing Professionals) and because I 'like' both Ellen and NAPO on Facebook, it came up in my news feed. I dug out my infrequently-used earbuds and carved out some time to listen to a few of the podcasts from The Super Organizer Show. I found them to be funny, fast-paced, and informative. On iTunes, I reviewed the list of past show topics and saw that there had never been a guest on the show talking about weddings. James is an author–I thought maybe he'd want to interview someone who wrote a book on a topic in organizing. I looked up James' contact info and dropped him a line about me and The Organized Bride's Thank You Note Handbook and the rest is history! He loved the idea of talking about wedding thank you notes and he booked me on his show for the day after he was attending his friend's wedding.
How did I prepare for my first podcast?
• I read my book two times a few days before recording the podcast.
• I created an outline of my chapters.
• I flagged pages in my book that I thought James might reference.
• I brainstormed some stories and anecdotes related to my book I thought I might want talk about.
• I buried our home telephone under some sheets in our linen closet in case it rang during the recording of the podcast (I used my business line for the podcast).
• And yes, I used the restroom ten minutes before dialing in–I had no idea how long I'd be on the phone with James. Good thing I did–we were on the phone for an hour!
In a nutshell–I got organized to talk about organization! And (off mic) James even recognized and mentioned how prepared I was.
I had a ton o' fun with James talking about my book, wedding thank you notes, sleep deprivation and it turns out we both have pen fetishes and love trying out different pens when we see a display in a store (ahhh, to be a writer…). He was engaging, came up with creative questions, and made me feel very at ease.  A very positive first podcast experience!
Wanna listen to the podcast? Here are three places you can find it:
On iTunes
On Spreaker
On You Tube (audio only)
For more information about James Lott, Jr. and The Super Organizer Show:
The Super Organizer Show on Facebook
The Super Organizer Universe (blog)
Thanks, James for having me on your show and for making my first podcast a very enjoyable one. Now that I know about podcasts, I guess now it's time to carve out some time for Netflix!