How many times have you gone to the supermarket with your shopping list written on a piece of paper and any of the following happens:
• you lose it
• it drops somewhere in the cart and gets trapped under your heaviest item
• you have to carry the list while pushing the cart because you think you might lose it or drop it
Your trip to the supermarket is about to get easier…
Today's Organizing Quick Tip:
Use large post-its for your shopping list and stick them to the
front compartment of the cart.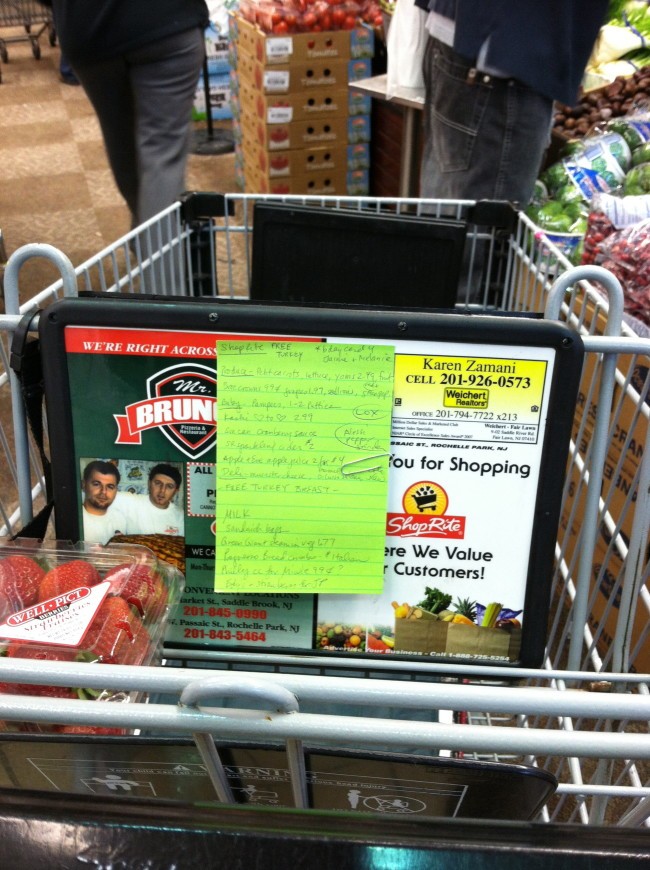 No more fumbling for your list. No more balancing your list and a bag of bananas. Your list is right in front of you making shopping easier and less stressful–that's what organizing is all about.
I like the fact that these post-its have lines to write on, making your list easier to compose and read. By placing the list in this spot, it also makes it easier to cross items off your list with a pen. You can find these lined post-its in most office supply stores–or Amazon if you need a few extra dollars to make that free shipping limit…
For those of you who have small children seated in that front compartment, I know you can't stick your shopping list in the spot above–I've been there. My kids' shopping cart cover had side pockets for bottles/snacks and while my sons were little and sitting in that front section of the cart, I'd put the big post-it shopping list in one of those pockets. Yes, sometimes my child would grab it and I'd have to move it around (and sometimes even stick it to myself) but that period of their lives won't last long. Soon you will be able to stick your post-it shopping list on the shopping cart.
Who's going shopping the organized way today?
CLICK HERE to sign up for Organized Artistry's motivating monthly newsletter!