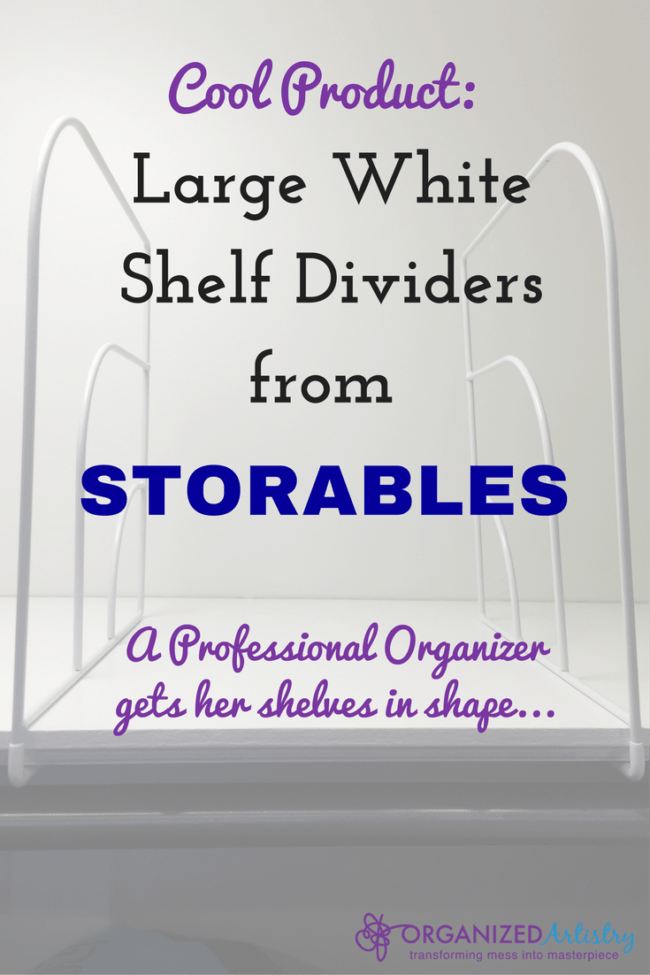 Normally, I do product reviews of organizing tools I use in my work and personal life but today I am writing my first Sponsored Post! The lovely folks at Storables contacted me a while ago and asked me to review a product of theirs–my choice. Hmmm…what to choose? This was like letting a kid run wild through the aisles of Toys 'R Us…
I had so much fun perusing the pages of their website. My pick? A product I had never used before–a shelf divider. Today's 'Cool Product' is: Storable's Large White Shelf Dividers.  I am doing this review in exchange for the product and a gift card.
Big thanks to my sponsor, Storables for reaching out to me with this opportunity. All words, opinions, and photos are my own.
If you've been following my blog for the past year, you've read that I just went through a major home renovation. We have a lot of new closets (yay!) so when Storables told me I could review any product from their website, I gravitated towards the ones that would work best in a closet. I had always seen shelf dividers similar to these in pictures and thought they were pretty 'cool' so I selected their Large White Shelf Dividers. A great idea–that is until they arrived and I realized they were too big to use in my clothes closet as well as my husband's. Oops. (They do come in a smaller size in Chrome.) I'm a stickler for measuring but I think my excitement got the best of me…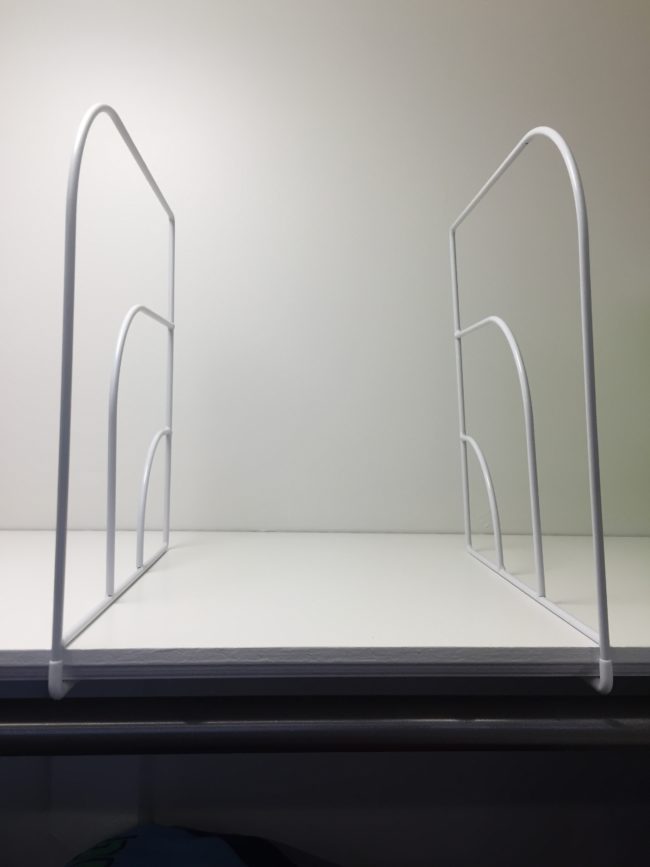 But, have no fear! I found many uses for this product in my home besides my clothing closet. All I did was use some 'out-of-the box' or in this case 'out-of-the-closet' thinking.
Here are four ways the Large White Shelf Dividers from Storables worked brilliantly in my home:
My Son's Closet
The kid has a lot of sweatshirts. Piling them more than 4-5 high is useless because they're just going to topple over. Enter Storable's Large White Shelf Dividers. This product makes it easier for my son to put away his own sweatshirts. Wait, did I just say that? Ha ha ha! I must be dreaming…he'd prefer to pile them on his chair instead. Not folded. Ummm…thrown over the chair. OK–this product is for me, not him–I freely admit it! It's going to make MY life easier!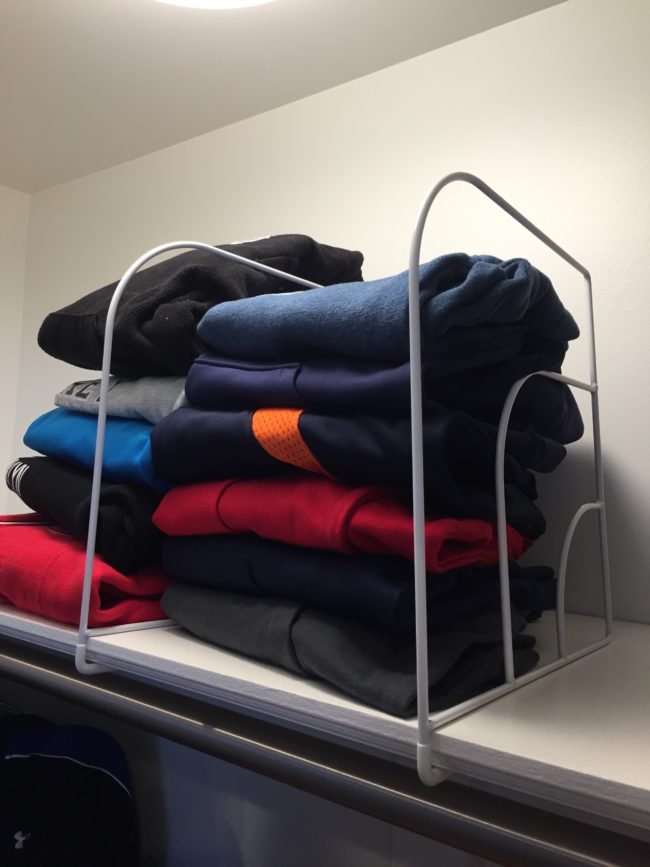 My Purses
I'm pretty practical–I don't have a huge collection of purses.  I use the same purse everyday for Fall/Winter and a different one for Spring/Summer. I own a few larger ones for carrying more and a few dressy ones for special occasions.
On the flip side, I have worked with clients who own 50-100 purses. And that's after we've purged the ones they don't like/need/want anymore. Whether it's a collection made up of 5 or 50 purses, no woman wants them piled one on top of another in her closet. It doesn't look good, piles can cause damage to a handbag, and it's challenging to find the purse you want when you need it. See below how beautifully the shelf dividers function? These shelf dividers act as 'parking spaces' for purses. If these dividers work for my tiny purse collection, think about how well they'd work for someone who really likes purses!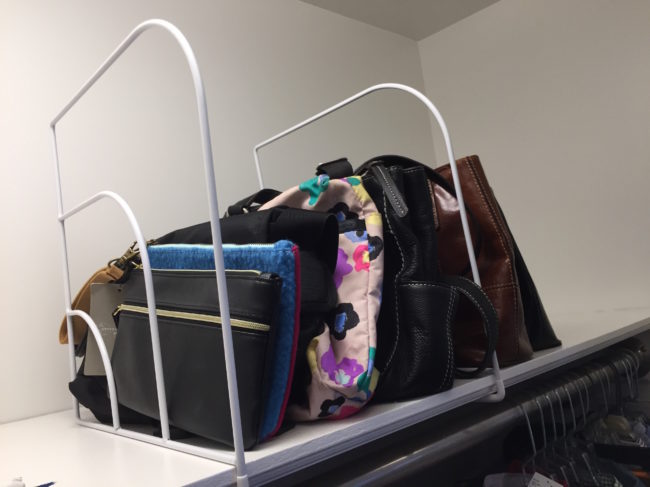 The Linen Closet
Towels, sheets, blankets–if there's more than one person and one bed in your household that can add up to a lot of linens. Piled high. Toppling over each other in your linen closet. Not with these Large White Shelf Dividers. The shelf dividers keep those linens piled high but not falling over onto another stack.
The Pantry
This may be my favorite use for the Large White Shelf Dividers. I use paper bags from Whole Foods and Trader Joe's for recycling and paper organizing projects with clients. I need easy access to them and a 'front-and-center' place to store them. Since my recycling lives in my pantry before being taken outside, I created a space in my pantry for the paper bags. I slid the shelf divider onto a shelf in my pantry close to a wall to create the space for the bags. When I get more bags, I can adjust the divider to accommodate more. This is working beautifully and will make my life much easier!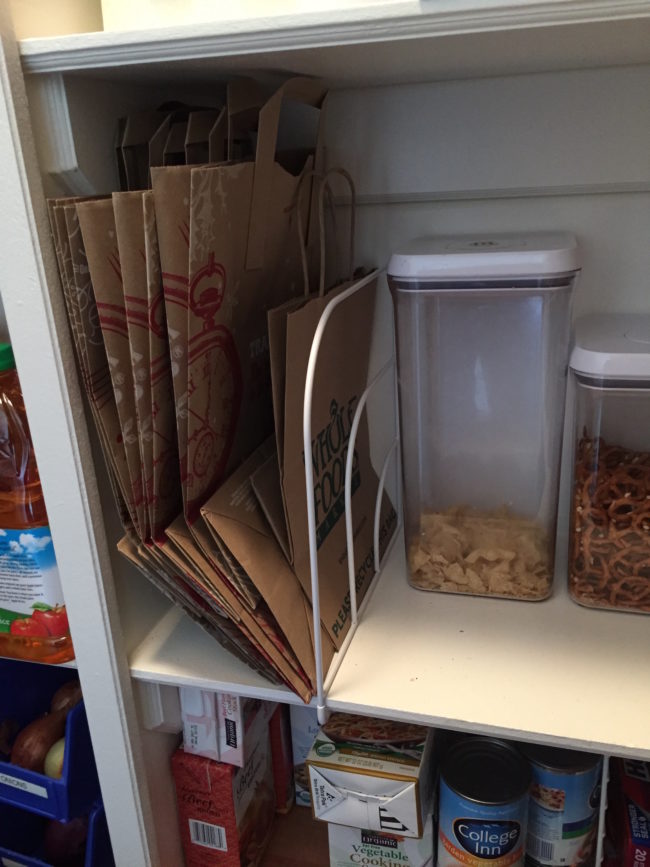 So, if you have large shelves with spaces that need dividing or maybe you have piles of sweaters/towels/purses that are constantly topping over each other, consider purchasing Shelf Dividers (in any size or color you need) from Storables. As a Professional Organizer and a homeowner, I recommend it!
How would you use Storable's Large White Shelf Dividers in your home?
CLICK HERE to sign up for Organized Artistry's motivating monthly newsletter!