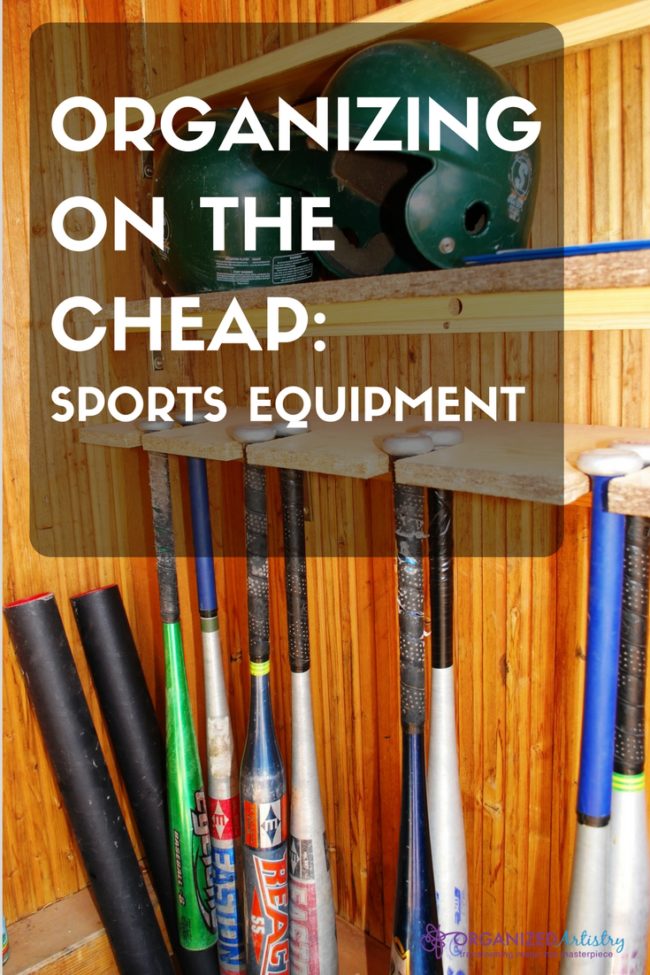 Who plays sports in your family? You? Your kids? All of you? Even if there's just one person in your household involved in sports, it can be a challenge to keep the equipment organized. Sports involves equipment and equipment has the potential to become a disorganized mess.
Stumped as to how to store it all? Try some of the following systems for keeping your sports equipment organized:
• Group by type
Example: baseball bats with the baseballs, mitts, and cleats
• Group by need
Example: all equipment needed for lacrosse practice
• Color coordinate
Each family member gets assigned a color. Place a dot of that color on their equipment and accessories. You'll always know who didn't put away their gear!
• Make a trade
Switch out off-season sports equipment. In the summer, have tennis rackets, water wings, and fishing poles at arms reach. In the winter, be able to find your skates, skis, and sled at the first sign of snow.
You're already spending big money on sports gear–you don't want to spend much more trying to keep it all organized. Here are a few free and low-cost products to keep your equipment 'grab-and-go ready' and safe from damage:
FREE:
LARGE CARDBOARD BOX
Everyone gets packages delivered–keep your eye on your neighbor's front stoop for the delivery of an item in a large cardboard box. I'm sure they won't mind you taking the empty box–it's one less thing for them to have to recycle! You can use that box to corral medium to large sized balls. Have the kids decorate it with sports pictures and stickers to make it look like it's more than a cardboard box. Giving them ownership of it will help when it's clean-up time.
GARBAGE CAN
Changing your home's décor? Don't throw away that old garbage can! Repurpose it for holding sports equipment. Use old garbage cans to store tall items such as hockey sticks, baseball bats, ski poles, and lacrosse sticks. You may want to wash it out first…
WINE BOTTLE BOX w/SEPARATORS
You need a box with compartments. Liquor stores are dying to get rid of them. It's a win-win situation. Look for a box with cardboard separators still inside. These separators will divide the box and create spaces for items such as whiffle ball bats, baseballs, tennis balls and rackets.
* Tip: Whether it's a box or a can, don't store anything more than twice the height of the container you use, or it might tip over.
LOW-COST:
LARGE, EXTRA-LARGE and XXL ZIPLOC BAGS
I hope the person at Ziploc who came up with the L, XL, and Jumbo bag concept got a promotion and a raise. Genius!
With built-in handles and a double zipper seal, they're perfect for storing and toting balls, skates, protective gear, and uniforms. They're made of a heavy-duty plastic making them moisture, dust, and pest-proof. The fact that the bags are transparent is an added bonus—you'll know exactly what's inside, saving you time and brain space. Find them in the supermarket or in your local home improvement store.
Cost: Approximately $5.49 and up per box
POP-UP MESH HAMPER
Pop up mesh hampers are the perfect receptacle for storing large balls, lightweight equipment or protective gear that needs 'airing out.' These round or 'squarish' shaped hampers are lightweight, easy to open, and come in breathable fabrics. Consider purchasing a different sized or colored hamper for each person in the family or one for each sport.
Cost: $7.99 and up
BALLGANIZER
Do you find yourself tripping over balls in your home? Trip no more with The Ballganizer. This hanging 5-ball capacity organizer offers a home for large balls such as footballs, soccer and basketballs. Hang in the garage, your kids' bedroom or the playroom.
Cost: $14.95
*BIG SPLURGE*
You've saved a few bucks by using the ideas above–that's great! If you are a multi-stick sport playing family and want to spend those extra bucks on something to organize them all, the 12-Compartment Utility Storage Unit is the organizing product for you. It's perfect for holding bats, hockey sticks, lacrosse sticks and other tall sporting items. Maybe even a few fishing poles, too!
Cost: $59.99
Now that your equipment is organized, searching for it all is no longer your pre-sports warm-up. Do some stretches, grab your gear, and go have fun!